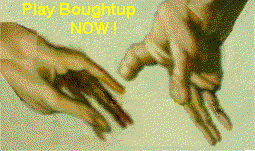 «
On a cell phone, tagtag.com/boughtup is our wireless site link
Email your number to my cell phone,i'll call back in 15min.,use Humanclick
Welcome, tewkeyhead


Woody aka "Charlotts' web,Monica"
Boughtup.com
is a "Business to Individule Investor",e-commerce web site.
Supported by free samples from Makers for Webvertisement.
This is a game to win secret products and unlisted stocks.
Correct guesses win a list of equally valued secret products and unlisted stocks to choose a free product and stock from.
Each gamer can keep product & stock,that equals the guessed profit in US dollars,from the gamers' list.Just guess a number.
A matching cash dividend program is paid to the gamer immediately after winning choosen goods or the gamer can hold the product & stock.There is a \\$3.00 charge to hold stock,paid upon first dividend check.
Based on your win you'll get instructions how to
track your dividends.Word of mouth pays big so tell everyone.
Also free;(1)"stock track" web site number(2)customer number(3)The list and order form.(4)gamers' (nickname).html site.
Remember,your stocks could go way up in value quickly on the success of
just one of our Makers' products by holding your stock one year or more.
Gamers please guess now.Guess the profit and you'll get the list or you will get a hi or low clue on your nickname.html site.
You must include a nickname with your guess,then go to
http://boughtupcom.scriptmania.com/(your nickname).html or
tagtag.com/boughtup/(your nickname)
to see if your guess is high
or low or a winner.
You can also play here Now Hi - Lo II Game
Just video your play and if you guess right on the first try upload the winning video and send GDK the link...
---
Privacy statement:boughtup.com will not collect any information from our customers for any reason beyond boughtup.com serving boughtup.com registered customers.
---
Guess and Nickname input form...

Makers---to get your products purchased by the smartest customers
in the world, join boughtup.com now.
Your product and stock will be included here if you agree
to offer a matching stock dividend to all winning gamers.
You must agree to pay dividends in cash to your boughtup.com
winning gamers on demand or continue to let them hold and earn dividends.
Don't worry boughtup.com will help you with everything.
Makers may stop dealing here at any time and boughtup.com will inform
gamers of the current dividends to be paid out to them.
---
Well thats it...boughtup.com is likened to a mutual fund of companies.
gamers become investors,Makers are start-ups that use the GDK electronics
online business incubator format and banks their free samples there,for the
purpose of gamer and maker confidence in this unique economic engine.
Boughtup.com chooses import/export ready products that if given 50-100 million in deep brand
building advertising dollars would become blue chip companies.
GDK electronics brand of products & boughtup.com,ęcopyright 3/06/2000