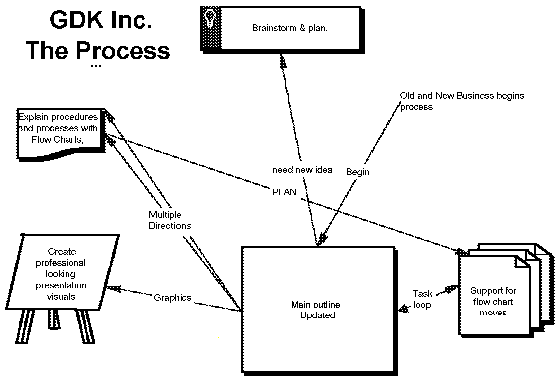 The GDK Business plan is back!!!
GDK business plan]
[updates to GDK Business plan]
[Request GDK prospectus]
[download GDK non-disclosure 1]
[download GDK non-disclosure 2]
[download GDK non-disclosure 3]
[Current ORCA provisions]
[marketing plan update]
Request GDK Documents;
Patents and Copyrights]
Installation Instructions]
Prospectus]
Non-disclosure agreement]
Brochures]
Business reply mailers]
Receipts]
Warranty]
Marketing up-dates]
Regional serial numbers/UPC]
EPA Approval]
Accessories list]
Authorized Distributors/Franchises]
Assembler training manuel/video]
Repair and return policy]
Labels and packaging]
Proof of product liability insurance]
Part inventory program]
Serial number,stock and "P.I.T stop" tracking program]
ATM/Credit card forms]
Business to business credit apps]
Your PGP encrypted public key]
Sales slips]
Sales poster]
partners banner table]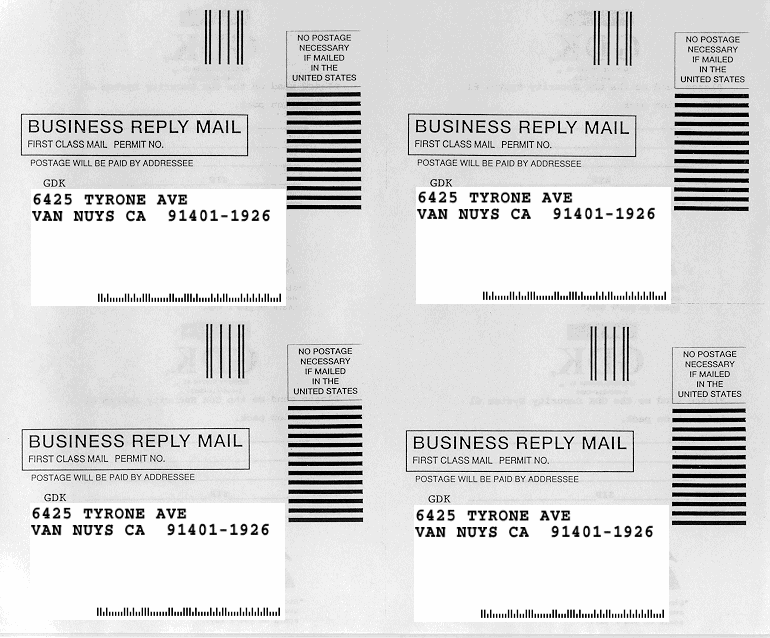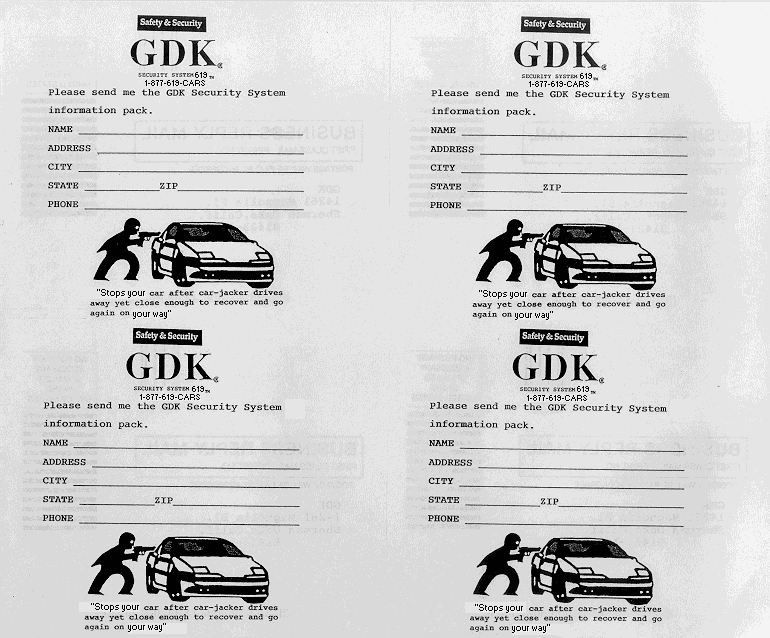 EXECUTIVE SUMMARY
---
CONFIDENTIAL
---
GDK Electronics brand of products
p.o.box 5552
Sherman Oaks,California,91413
877-619-2277
Email gdkss@hotmail.com
http://boughtup.com
Business Plan TABLE OF CONTENTS Version 8.10.1998.0


EXECUTIVE SUMMARY
The Company
Financial Goals
THE MANAGEMENT
GDK HISTORY
[PRODUCT, SERVICE] DESCRIPTION
OBJECTIVES
Long Term
Short Term
COMPETITORS
OUR COMPETITIVE ADVANTAGES
PRICING
SPECIFIC MARKETS TARGETING NEW MARKETS
Growth Strategy
Market size and Share
LOCATION
RESEARCH & DEVELOPMENT
HISTORICAL FINANCIAL DATA
PROFORMA FINANCIAL DATA
Proforma Cash Flow Analysis
Sales Forecasts
Cash flow variables
Income Statement
Proforma Balance Sheet
Ratio Analysis
Financial Standards
Breakeven Point
EFFECTS OF LOAN OR INVESTMENT
Vendor and Supplier
Investor exit plans
ADDITIONAL INFORMATION
Human Resources
Manufacturing
Marketing
Sales
Investments
Training
New Products
Business
Summary
Marketing efforts,Ammendments and enclosures
Patent




EXECUTIVE SUMMARY
I. Type of Business:SIC 3714
Electronic sensor integrators.
Connecting sensors to the application
with the improved logic clock US pat.5360997
II. The Market:
Component makers for major automakers.
Automotive aftermarkets
Trac Auto,Pep Boys,Sears...
Home and business security
III. Business Goal:
To get 30% of the 4 billion integrator
market in the US.
IV. Investment Required:
\\$500,000-$1,000,000 for IPO and founders expenses.
Current Events Updates http://members.tripod.com/~geraldk/addto.html
The Big three automakers are making standards for the production of automobiles and the patent 5360997,that GDK Electronics has a patent to produce,has been introduced to them to begin building to those electrical standards.ISO 9000,QS 9000,AEC certification will assure installation of the GDKss614 at the automobile factory production line for multi-purpose use by the consumers of automobiles.The uses include Security,Energy savings,Circuit integration and sensor to application connections.The automobile industry is our main focus to attain market share while there also exists market share in a wide variety of other industries.GDK Electronics environment protecting manufacturing process Will protect the company from pollution laws. The March in rights of the two patents claimed by GDK Electronics are currently in being marketed so owned out right by GDK Electronics. The environmental manufacturing process keeps the company ahead of the competition. The company owns 56 computer software programs published in the USA. We are still a private company,the Business Plan refers to us as a future Corporation.The GDK IPO is as a Product development company.
Thank you,
Gerald Krug
Founder GDK Electronics The following summary information is qualified in its entirety by the detailed information and financial statements appearing elsewhere in the Prospectus. See "Risk Factors" for a discussion of certain factors that should be considered in connection with an investment in the Common Stock offered thereby.