List of free christmas gifts,call us...
---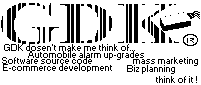 ---
"GDK,Upgrading Auto Security Worldwide" That's Right! With purchase of a GDKss614 system at \\$159.95 OR after each GDK test form submitted, You will receive \\$100.00 Dollars
in stock rebates,to earn dividends,with our,
---
Free insurance against loss from \\$200.00 & up if a GDK system fails.
************************TESTIMONIALS***********************
___"I'm excited knowing|"Because of the ss6's___|"This is the way to

_with GDK I'm safer than|my car can't be used for_|begin a drive,the 6's,

__________other drivers."|a high speed chase."____|my secret protector."
Now,automatic door exit locking comes Free!
THE GDKss6 series ARE NOT ALARMS
Carjackers can not hi-jack or defeat the GDKss60,61,614,619 or K.F.C.I.Hidden remote starter switch(csswitch)because the system hides.
"Phone in Triggering,P.I.T.stop" and the "smart charge card",has no monthly charges."
Be ready for anything.

Get the
GDKss614,pat.5360997!
It's an invisibly mounted electronic Starter kill/anti-kidnap switch that stops your car,automatically, minutes after being hi-jacked face to face by carjackers thus eliminating need for tracking systems. \\$159.95
email c.o.d.address
"P.I.T.stop system,extra\\$""Anti-hostage system,extra$"
"Franchise and csswitch available for Salespeople/Affiliates"
You puedo leer en
Espanol