I got this gal with a csswitch,Order NOW,WOW!

order here with ref# or get a local business to order for you.

order here for dealers wholesale price of \\$10.00,include resale number.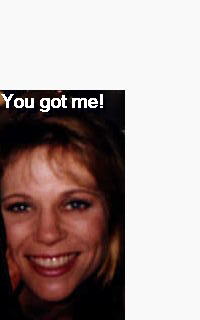 ---
Get alerted automatically when this web site changes
Extract my PGP public key by inputting "gerald d. krug"
---
GDK Electronics brand of products,USA

p.o.box 5552

Sherman Oaks,California 91413

toll free 1-vss-n1z-cars

toll free 1-877-619-2277 6pm-10pm only

---
TradeSafe Sales Transactions Form
http://www.tradesafe.com/order.html
(Please note: Valid e-mail addresses are an absolute requirement for this form! If the addresses are
not valid, you will get an error screen. Should this occur, please call us at (401) 861-6611 and we
will try to help you resolve the problem)
Buyer Information
First Name: Last Name:
Postal Address:
City: State: ZIP Code: Country:
Phone:
Fax:
Email Address:
Seller Information
First Name:Gerald Last Name:Krug
Postal Address:p.o.box 5552
City:Sherman Oaks State:CA ZIP Code:91413 Country:USA
toll free 1-vss-n1z-cars 1-877-619-2277 6pm-10pm only
Email Address:gdkss@hotmail.com
Transaction Details
Item being sold:GDKss614
Seller Shipping Method:UPS
Purchase Price: \\$159.95
Buyer payment method:Check
TradeSafe Online Corporation -- TradeSafe@TradeSafe.com -- (401) 861-6611

---
Privacy statement:GDK will not collect any information from our customers
for any reason beyond sale of a GDK product or service to our customers.
---
Install the gdkcalig5.ttf file in your windows font folder
MY CARD>>>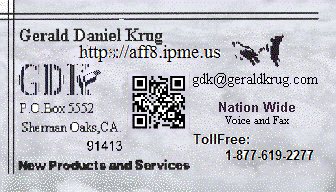 ---
GDK Electronics brand of products,boughtup.com(sm),(tm)and Copyright © 2/27/2000 Mfg.#(208679)
---
Email your number to my cell phone,i'll call you in 15min.,use Humanclick